Introducing next-generation handling technology with Safesteer, unparalleled Lock and Load functionality and the wonderfully simple Monocurve design. Available for £2,249.00. Reserve your Bo M today for delivery from February 2024.

Showcasing a seamless blend of performance and elegance, the Bo M features a high torque motor, providing a peak power output of 1200W and a top speed of 35 km/h, with a battery capacity of 655Wh delivering a range of 50km. The bespoke high torque electric motor has been optimised for mid-range torque and the precision throttle map allows for excellent control of output of power and responsiveness. This brings you silent, controlled acceleration, with the necessary power to take on the most challenging of roads with ease.
The shape of things to come.

One curve represents a foundational shift in vehicle design and engineering - the single greatest sector advancement since the arrival of electric scooters. Alongside strength and reliability, the all-new chassis brings you every Bo innovation without ever introducing complexity.

Forged from high-strength aluminium, the intuitive lines of the Monocurve chassis create the first homogenous structure in this sector designed to true automotive principles, seamlessly combining function with design. The design allows for the steering to be separated from the chassis, simultaneously providing both a stable base for the Lock and Load system while firmly keeping you connected to the road.
Steer ahead with Safesteer.

SafesteerTM technology is a world-first, developed to bring you dynamic steering stabilisation and set the benchmark for control, inspiring a new level of rider confidence. Whether your first ride, or thousandth, Bo's Safesteer technology stabilises and smooths the steering through bumps, dips and potholes to keep you in perfect comfort and control, so you can enjoy every ride.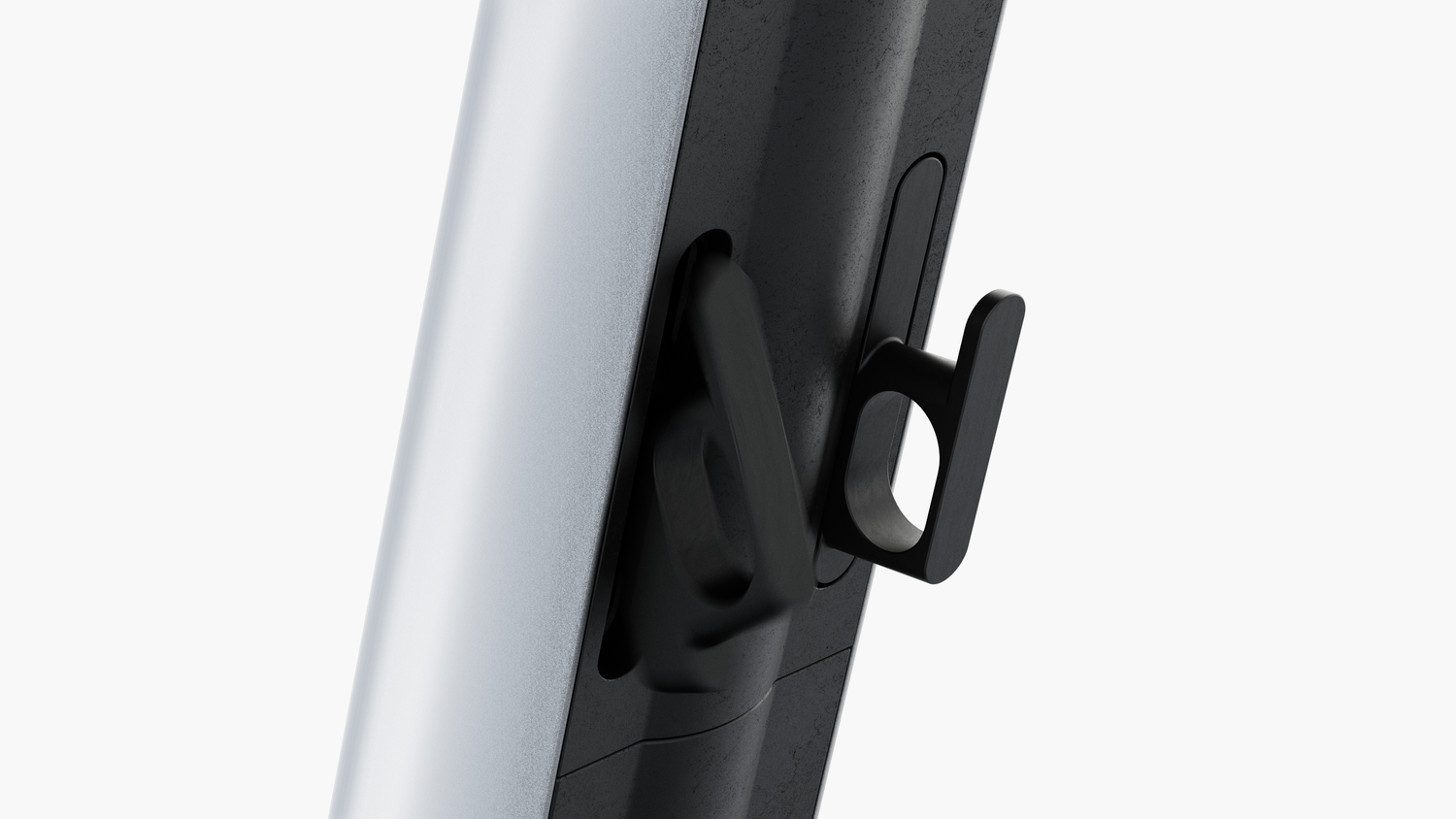 Lock and loaded.
Take the weight off with the all new Lock and Load system, securely integrated within the Monocurve Chassis, and featuring swivelling hooks that act as your designated locking points as well as bag hooks. With the hooks mounted on the fixed Chassis, bags of up to 10kg can be hung with no twisting, making your journeys effortless, no matter the cargo.

Innovation
One step ahead.

Connect your phone to your Bo M in an instant with the Mous Intralock system. Securely fixing your phone in sight and enabling you to use your favourite apps to navigate around your city with absolute ease.
Safety comes first. The signature Daytime Running Light (DRL) wraps the Monocurve Chassis to create Light Halo, a world first in the sector, projecting a clear 270-degree light visibility. Complemented by a powerful 800 lumen headlight and a wide-angle rear light to cover every angle and maximise your presence on the road.
Introducing an intelligent, lightweight and invisible comfort system, the Airdeck, an engineered elastomer footpad, has been created from 11mm EVA anti-vibration foam based on the same material technology found in high-performance running shoes. The lightweight deck panel is tuned to reduce road vibrations, isolating your feet from the noise, bringing smoothness and comfort to your longest journeys.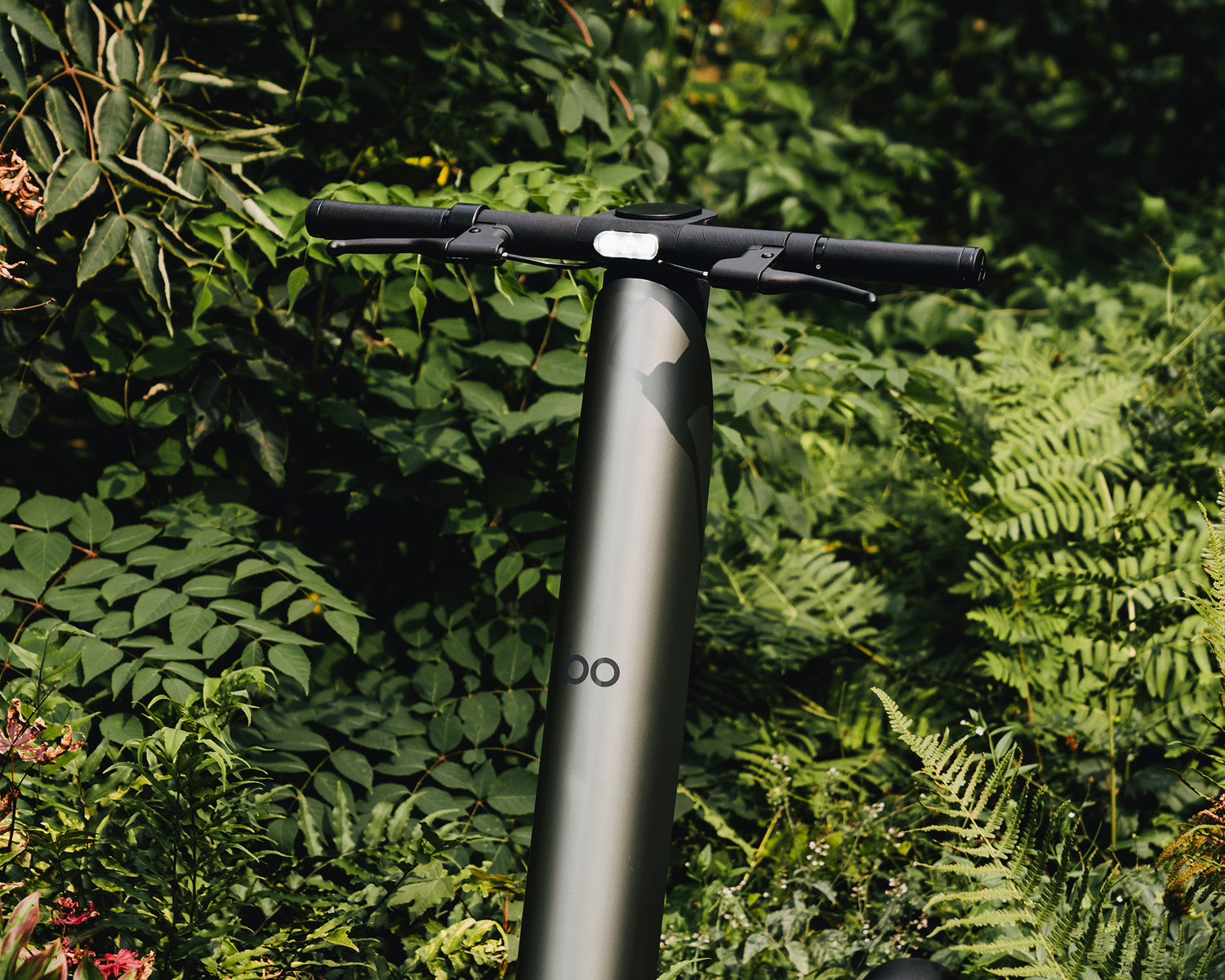 Make a stand.
Bo M is designed to last with robust, recyclable materials and IP65 waterproofing. Over-the-air updates keep you on the move for longer. While this electric vehicle is lighter on the planet with 10 fold energy reduction over the most efficient electric car. This is the start of a new era.
Explore Bo Energy
"Sleek and desirable"

Top Gear Prototype Review

Read Review

"E-scooter of the future is finally ready to buy"

Engadget Prototype Review

Read Review
Bo M
Overview and specifications.
M

Total: £2,249.00
Reservation: £100.00

Introducing Safesteer handling, Lock and Load functionality and the sleek Monocurve design, all with elegant performance.

50km range
35kmh
<3hours charge to 80%
Safesteer V4.2
Lock and Load
Light Halo DRL
800 Lumen Headlight
Airdeck
Vertical Kickstand
Integrated Phone Mount
IP65

Delivery from February 2024

Reserve